This has been the Chargers "year" for going on 15 years now. Of course, none of those years really panned out, but that hasn't stopped the world from continually hyping the Chargers. Going into the year, you could see the hype train coming back. They were a great NFL Countdown surprise pick. That train derailed early in the season, with the Bolts losing to the consensus two best teams in the NFL (the Chiefs and Rams). Even in those games, it took some standard Charger mistakes to put themselves away. Now, after two quick wins against the Bills and Raiders, I think it's safe to say, on behalf of the Chargers hype train, "WE'RE BACK, BABY!"
This Chargers team has added a few pieces over the last couple years that make them a true contender. It came together last year, but the team couldn't overcome the usual bad injury luck and kicking woes we've come to expect from them. We've already seen more of the same this year, and I would never rule it out for this seemingly cursed franchise. BUT, if they could just get their shit together FOR ONCE, and not shoot themselves in the foot, this year could be different. As I type that sentence out, I can already imagine how foolish it could sound by the end of the year. This has to be the 10th season I've had this thought, and all ended in disaster. With that being said, how is this season any different? I thought you'd never ask.
Line Play:
On both sides of the ball, the men in the trenches have been fantastic. Mike Pouncey brought a much needed veteran presence at Center that has been missing since the Nick Hardwick days. That has been a revolving door the last few years, with injuries and poor play defining the position.  Russell Okung has been an incredibly underrated pickup at Left Tackle and has kept Rivers upright. He's been sacked only 7 times through 5 games, giving him the opportunity to dissect defenses at will. It's no coincidence that Melvin Gordon and Austin Ekeler are having great seasons. This is the first time they've seen real running holes in their careers! On defense, the combination of Mebane and Ingram is strong. If and when Joey Bosa returns, it will be the best defensive line in the league. Bosa is one of the best 10 defensive players in the league, and his presence would take this team to another level.
Weapons, Weapons Weapons:
The Chargers offense hasn't been this loaded since the LT-Gates-Jackson days. Gordon and Ekeler are a powerful one-two punch, reminiscent of the LT- Sproles combo in the mid-2000s. Gordon gives them a smash mouth, traditional back that can get the tough yard when needed. Ekeler brings finesse and is one of the best ball catching backs in the NFL. Both are liable to break a big one on any play. As evidence last week against the Raiders, they are incredibly dangerous in the open field.
At receiver, the bolts run deep. Keenan Allen is playing as well as anyone in the league. Mike Williams looks like the real deal after a lackluster rookie year. Tyrell Williams and Travis Benjamin have incredible speed, making them the perfect compliments at slot receiver. And wouldn't you know it, Antonio Gates is still plugging away and comes up big when they need him to. How he gets open with borderline offensive tackle speed is beyond me.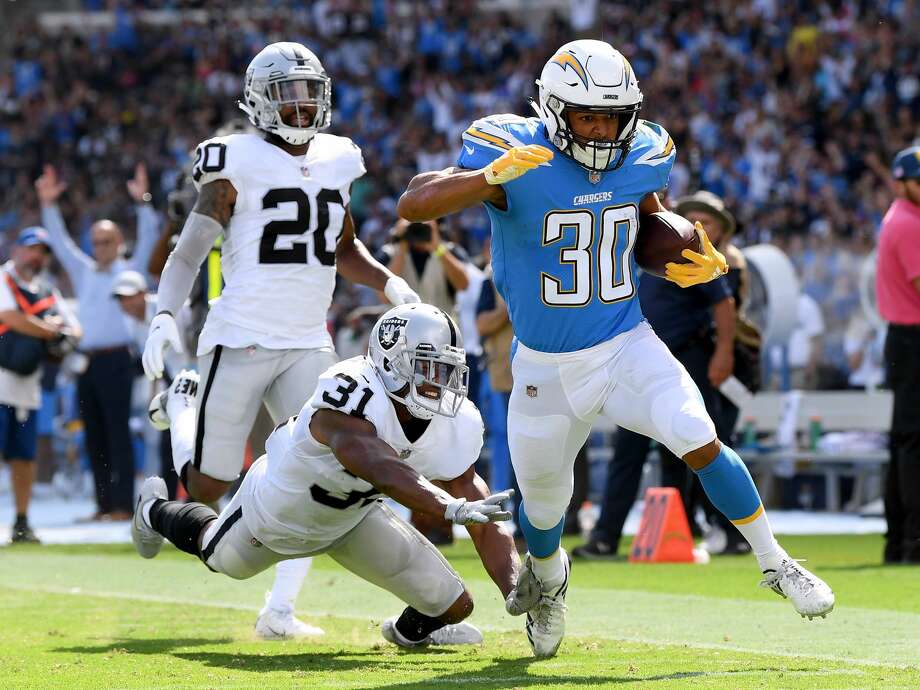 Reliable Rivers:
Old, reliable, baby-making Phil Rivers is playing as well as he's played in his career. At 36 years old, he should be slowing down, both with children and as a Quarterback. He's going the other one on both accounts. His draft counterparts, Eli Manning and Big Ben, are both starting to look their age. Phil, however, is playing better than ever and importantly limiting his mistakes. He's only thrown two interceptions for the year and hasn't been forcing the same throws he had in the past. As mentioned before, his offensive line deserves a ton of credit for the way he's playing. His cough "limited" cough athleticism means he relies on them more than most quarterbacks. When he's protected, he's as good as it gets. If they can keep this up, he can keep up with any Quarterback in the league.
The same questions remain for this team that have plagued them in years past. The special teams play and coaching are among the worst in the league year in and year out. ACLs are torn weekly. The "home" games are a joke. It seems to be a self-fulfilling prophecy that the Bolts can and will find innovative new ways to lose. Yet this year, I don't know, seems different. There's a certain "F-You" swagger this team has taken on to compensate for the lack of fans the Spanos family gave them. They're embracing the villain role a la Lebron in Miami circa 2011. Their leader needs a Super Bowl to cement his legacy as the Hall of Fame quarterback he is. Time is running out. Will this be their year?